Motorized 3 Wheeler Trike Trailer Kit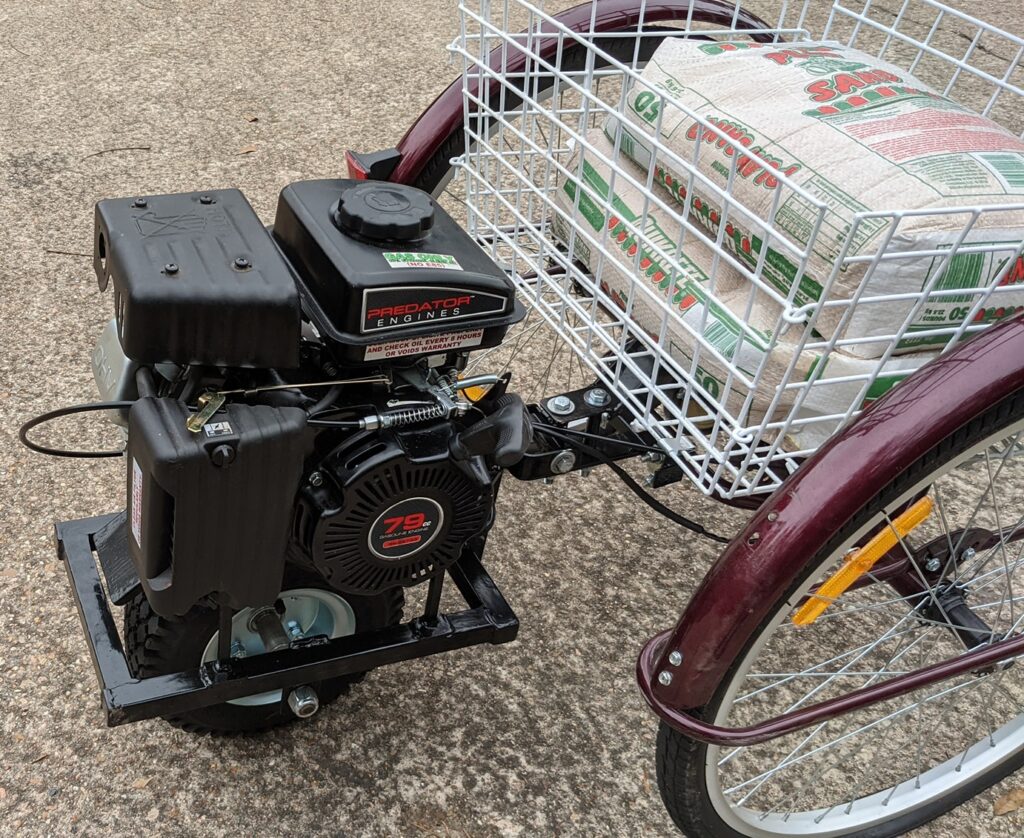 TRIKE TRAILERS
Now taking orders for
The Hughes Motorized Trike Trailer Kit $695 shipped
US Shipping only
PLEASE WATCH VIDEO BELOW BEFORE ORDERING
TO INSURE THE TRIKE TRAILER FITS YOUR TRIKE!
Is it worth $695?
Yes. Look at e-bike kits that will have less range and lower speeds that cost hundreds more. Each Trike Trailer is hand built by me. These are not mass-produced overseas. I hand fabricate a quality kit and have spent years perfecting this way of motorizing an adult 3 wheeler trike.
The photo above shows a 100 pound payload that was tested w/ a 180lb rider. Goes up to 20mph.
Hughes Motorized Trike Trailer Kit $695 shipped
(no trike or engine included)
Here's what you get in the Trike Trailer kit:
Hand-built Trike Trailer w 5″ Mini Bike Drive wheel
clutch
chain & spare link
hand-fabricated trailer hitch and mounting assembly for standard trikes
throttle assembly and cable
handlebar mounted kill switch
everything but the engine (YOU PROVIDE 79CC ENGINE and your adult trike)
WHAT'S INCLUDED IN THE KIT? – (watch video below)
If your trike's rear end looks different, you'll need to email me pictures of your trike's rear end to HughesMotorized@gmail.com and I'll see if I can adapt the trike trailer to fit.
PLEASE WATCH VIDEO ABOVE
TO INSURE THE TRIKE TRAILER FITS YOUR TRIKE!
Your new kit will feature a your provided 79cc 4 stroke engine. No heavy motor on top of your front wheel or off to the side. This will be a great new way to power your trike. 3 wheeler trikes are unstable in turns. Our new design will add more stability and offer power while you keep your basket and no heavy motor on the front wheel.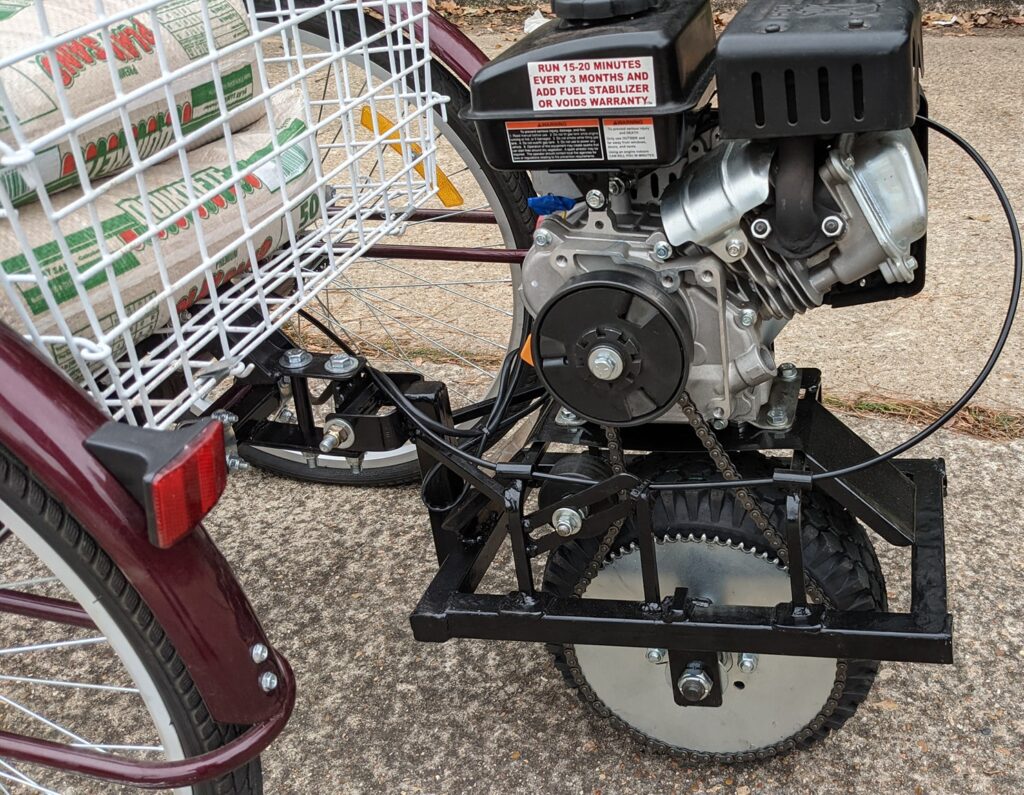 PLEASE WATCH VIDEO ABOVE BEFORE ORDERING
TO INSURE THE TRIKE TRAILER FITS YOUR TRIKE!
You will need basic shop skills and shop tools to successfully install your kit. The kit will come with a link for online installation video.
TRIKE TRAILER ONLY ! No engine or trike provided. You must install a 79cc Harbor Freight Engine. Shipped price includes, Trike Trailer, Throttle, Handlebar-mounted kill switch, cables, trailer hitch, mounting hardware, clutch, chain, throttle linkage for 79cc engine. You must have mechanical skills and tools to properly install and operate the Trike Trailer. ALLOW 10 days for shipping.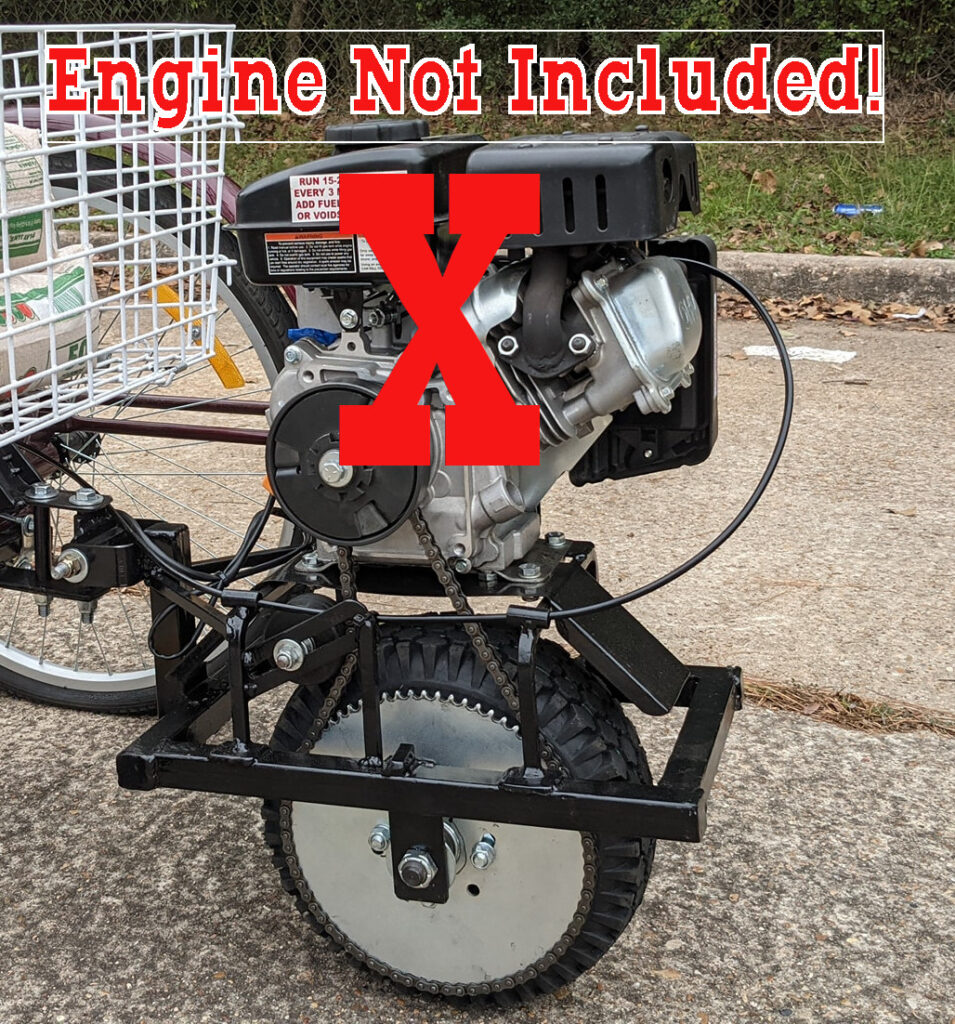 CLICK HERE for a great deal on an adult tricycle. $299 and up
• Fits on practically any trike.
• Throttle mounted on handle bars
• Top speed of 15-20 MPH w a 280lb rider – 100 Smiles per gallon
• Easy start
email: hughesmotorized@gmail.com for more info
E-Bike Electric Motor Kits
Motor Kits