How To Break or Cut A Motorized Bicycle Chain Using Simple Hand Tools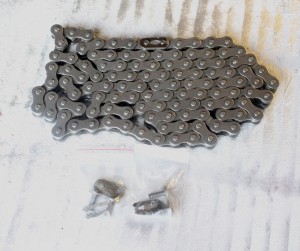 You can break a motorized bicycle chain using simple hand tools. You need a hammer and a pin punch. The rest you can adapt to your situation. Yes, a chain breaker is the easiest way but once you see how it's done, you might opt for using simple hand tools.
How To Repair Broken Chain That Keeps Coming Off Motorized Bicycle
Tired of your chain breaking ? Watch the video above to see what you need to do to correct chain issues on your motorized bicycle and look below on how to purchase a stronger, better chain for your bike. This chain is stronger than the stock Motorized Bicycle chain. It is also a little wider and less prone to coming off. Below you can purchase the chain in 5 foot increments. 5 foot is enough for one chain and you will have some spare chain and spare connecting master links for repairs.   You can also get a heavy duty chain breaker tool so you can quickly and easily cut your chain to length.
———————————————————————————————
Here is a great Chain Tensioner. Infinite adjustment and will not slip into spokes !
 All chains are shipped US Postal Priority so you will get your chain FAST !
———————————————————————————————
Heavy Duty Motorized Bicycle Chain Breaker Tool
$20.00 plus $8.99 shipping
Click below to BUY CHAIN BREAKER NOW
  ———————————————————————————————
5 foot  Heavy Duty Motorized Bicycle Chain ( enough for 1 chain and some spare chain left over )
PLUS – 2 Spare Connector Master Links for Heavy Duty Motorized Bicycle Chain NOTE: – You will still need to cut chain to size to fit your bike. $15.00 plus $8.99 shipping
Click below to BUY 5ft CHAIN NOW
    ———————————————————————————————
10 foot Heavy Duty Motorized Bicycle Chain ( enough for 2 chains and some spare chain left over )
PLUS – 4 Spare Connector Master Links for Heavy Duty Motorized Bicycle Chain NOTE: – You will still need to cut chain to size to fit your bike. $30.00 plus $8.99 shipping
Click below to BUY 10FT CHAIN NOW
———————————————————————————————
5 foot  Heavy Duty Motorized Bicycle Chain ( enough for 1 chain and some spare chain left over )
Heavy Duty Motorized Bicycle Chain Breaker Tool for Motorized Bicycle
PLUS – 2 Spare Connector Master Links for Heavy Duty Motorized Bicycle Chain $35.00 plus $8.99 Shipping
Click below to BUY 5ft CHAIN & BREAKER NOW
———————————————————————————————
10 foot  Heavy Duty Motorized Bicycle Chain ( enough for 2 chains and some spare chain left over )
Heavy Duty Motorized Bicycle Chain Breaker Tool for Motorized Bicycle
PLUS – 4 Spare Connector Master Links for Heavy Duty Motorized Bicycle Chain $48.00 plus $8.99 Shipping
Click below to BUY 10ft CHAIN & BREAKER NOW
———————————————————————————————
How To Repair Broken Chain That Keeps Coming Off Motorized Bicycle